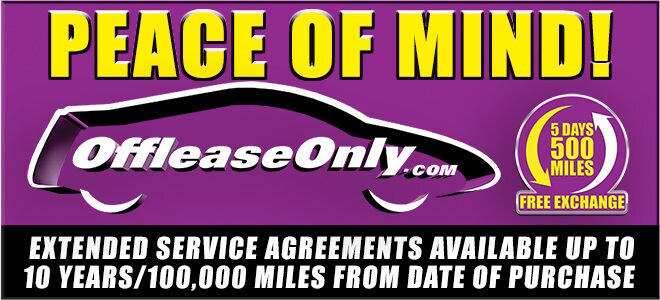 EXTENDED SERVICE CONTRACTS OFFER PEACE OF MIND
You've just found the car of your dreams at one of the Off Lease Only lots, or online, and now it is time to close the deal. Extended Service Contracts offer additional peace of mind to your used car buying experience.
During the conversation with an Off Lease Only Business Manager, you're asked if you are interested in an extended service contract and you wonder if the coverage makes sense for you.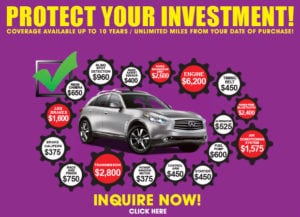 Extended Service Contracts are available up to 10 years/ 100,000 miles from your date of purchase!
For most used car buyers the answer is "absolutely."
"It's peace of mind," says Off Lease Only Business Manager Albert Anticole. "An extended service contract protects you from unforeseen expenses."
Customers who buy cars at Off Lease Only, the nation's largest volume independent used car dealer, will discover there are several ways to avoid unnecessary expenses in the future.
In addition to offering extended service contracts, including those that cover just about everything covered by the original factory warranty, Off Lease Only also offers gap insurance as well as several other ways to protect owners from unforeseen expenses.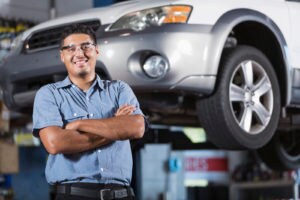 Extended service contracts can give you the coverage you need when you need it most!
For most customers at Off Lease Only, it makes sense to purchase an extended service contract at the time of purchase, even if the car still has some of factory warranty remaining.
One reason for that is the longer you wait, and the higher the miles, the more expensive the extended contract will be.
Also, when you buy the service contact at the same time you're buying the car, you can add the cost – usually between $15 to $30 each month – into your financing.
The good news is that even if you declined the option at the time of your Off Lease Only used car purchase, it still isn't too late to add that peace of mind. You can simply call (877) 953-8799 to start the process!
Anticole says that manufactures determine the length of their factory warranty's based on when they believe parts will start to wear and need to be replaced.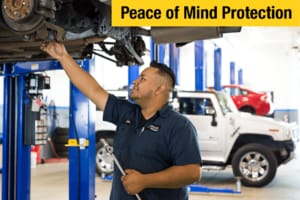 They're telling you that things are going to break at a certain point," he said. "They're not going to incur the expense, so why should you."
With an extended service agreement, customers can avoid paying a big out-of-pocket expense should an expensive repair be needed.
"Customers need to ask themselves if they are prepared to make a potentially big expenditure if a repair is needed," Anticole said.
At Off Lease Only – which prides itself on a transparent process from start to finish – customers have choices on the types of extended service contracts offered and are encouraged to read over each to understand what's covered and what's not covered so there are no surprises in the future.
In most cases, the extended service contracts are transferrable, making the vehicle more valuable should the owner decide to sell it.
For those looking for additional peace of mind, Off Lease Only also offers gap insurance, which pays off the balance of what is owed on the car's value in the event of a total loss.
With gap insurance, car owners can avoid continuing to make payments on a car they can no longer drive.
"Gap insurance is one more way to protect your money," Anticole said.
Because gap insurance and all other protection product policies offered are prorated, customers are eligible for a refund on the unused portion if the car is sold or traded, or when the loan is paid off, he said.
In addition to gap insurance and extended service contracts on mechanical and electrical parts, Off Lease Only also offers additional valuable coverages, usually for under about $15 a month each.
Customers can purchase coverages to protect against:
• Paint and Fabric damage
• Tire and Wheel damage
• Theft up to $5,000
• Lost keys
• Dents and dings
Be sure to ask about these products when purchasing your next car from Off Lease Only, and remember, if you've already purchased your vehicle it's not too late to get coverage.
Want to stop by the Off Lease Only location nearest you?
Simply click the banner below to get driving directions to the OffLeaseOnly location of your choice!
Happy Car Shopping!