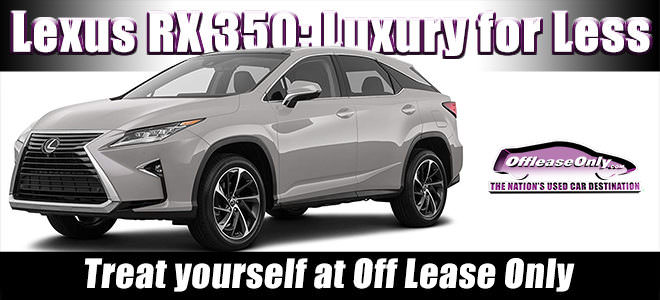 A USED LEXUS RX 350: LUXURY FOR LESS
When the Lexus RX was first introduced for the 1999 model year, it looked like an alien space ship compared to the other luxury cars and SUVs on the road. Two decades later, the Lexus RX 350 is still the best selling luxury vehicle in the United States. This is no surprise, considering this Lexus SUV isn't trying to "be all things to all people". Sure, there is a 'Sport Mode'. But it doesn't really affect much. And most used Lexus RX 350 buyers are just going to leave it in 'Normal', because that's where this luxury SUV truly shines.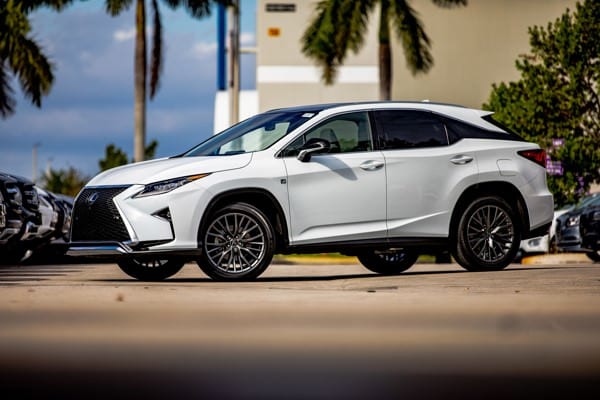 The ride in a used Lexus RX350 is softer than a cloud made from marshmallows. The seats are spectacular, the cabin is beautifully designed, and the engine feels like it runs on cream. The Lexus RX 350 is an unapologetic isolation chamber that's been specifically designed to protect you from the discomforts of the outside world. And if you get your used Lexus RX 350 from Off Lease Only, we'll protect you from the high prices that other dealers will try to charge!
LEXUS RX 350 BUYERS GUIDE
In the past 20 years, the Lexus RX350 is undoubtably the most popular of all the Lexus SUV models. The reason being, this luxury SUV has the added room and ground clearance needed to traverse modern life. The interior is positively sumptuous, with rich feeling materials and solid construction throughout (the wood trim is even sourced from the Yamaha piano company). The venerable Toyota 3.5L V6 offers more than enough power for nearly any situation. And the available RX 350 AWD system can help you continue plowing forward in inclement weather. There's also plenty of tech on board, but the infotainment controller may not be for everybody. This also isn't a traditional 3 row SUV, but the second row passengers will have limo-like legroom. Used Lexus LX 350 models tend to be highly sought after because of their exceptional build quality and reliability. This is perhaps why this luxury SUV outsells its competitors almost 2-1.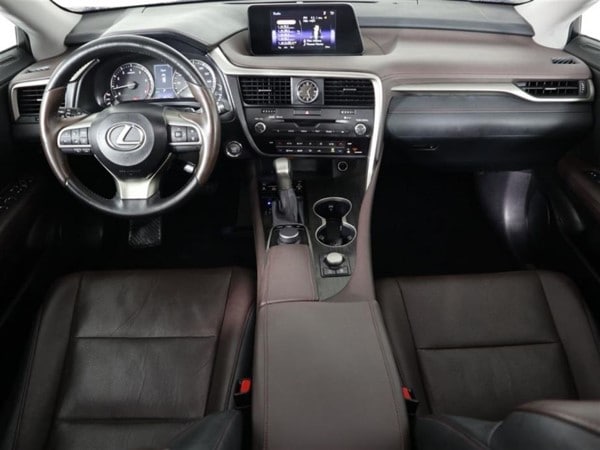 Find the perfect Lexus RX 350 right now at OffLeaseOnly.com
Another benefit that people will find when looking for a used Lexus RX 350 for sale is the endless configurations. Buyers wanting to show off their success can choose one of the upper trim models, which have more glitzy trim and dramatic 20-inch wheels. For people who prefer a more conservative appearance, lower trim versions of a used Lexus RX 350 get less ostentatious exterior styling and smaller wheels. But they're still packed with all the amenities that make this luxury SUV such a winner. The used Lexus RX 350 F Sport also exists for people who want a more sporting Lexus SUV experience. It features a more aggressive grille, dark exterior accents, unique 20-inch wheels, an adaptive suspension, special gauges, paddle shifters, unique interior trim with special leather upholstery and heated/cooled front chairs. There's no performance enhancements on the RX350 F Sport, but it looks and handles much sportier.
LEXUS RX 350 HOW MANY SEATS?
A pre owned Lexus RX 350 seats 5, and the rear occupants enjoy a surprising amount of legroom and comfort. If you need seating for 7, a used Lexus RX 350L is a proper 3 row SUV with an extended wheelbase and seating for 7.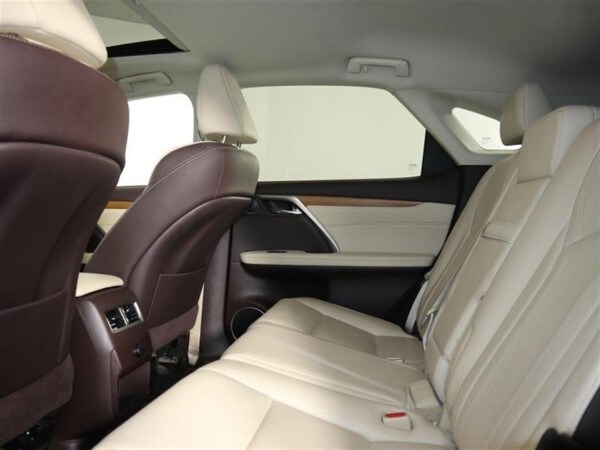 WHO MAKES LEXUS?
Toyota.
LEXUS RX 350 FEATURES
Lexus RX 350 Base – Standard equipment includes automatic LED headlamps, 18 inch wheels, a power lift gate, keyless entry and ignition, dual zone climate control, power front seats with synthetic leather upholstery, power tilt and telescoping steering wheel, a backup camera, lane departure warning and intervention, forward collision warning with automatic emergency braking, and adaptive cruise control.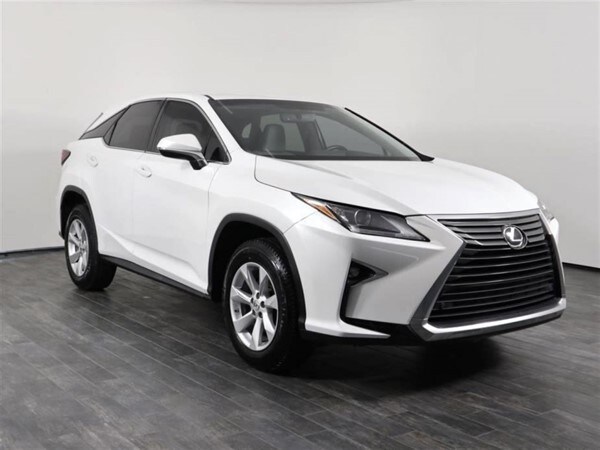 Find the perfect Lexus RX 350 right now at OffLeaseOnly.com
Lexus RX 350 Premium – This upgrade package adds a sunroof, auto dimming side mirrors, automatic windshield wipers, driver seat memory function with full leather upholstery and upgraded wood trim.
Lexus RX 350 Luxury – In addition to the RX 350 features listed above, the RX 350 Luxury trim gets 20 inch wheels, upgraded leather upholstery with contrast stitching, four way lumbar adjustments for the front seats, a heated steering wheel and manual rear window shades.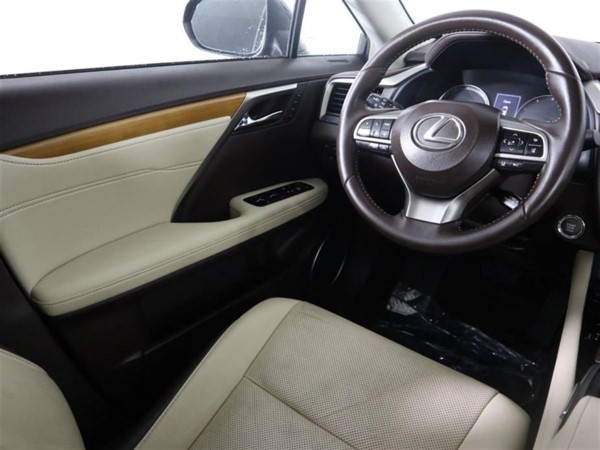 Lexus RX 350 F Sport – This sport flavored luxury SUV calms with more athletic exterior styling and wheels, an adaptive suspension, a throaty exhaust synthesizer, transmission paddle shifters, heated and ventilated sport bucket seats with upgraded leather upholstery throughout, unique interior trim and special sport gauges.
Lexus RX 350 options include a panoramic roof, a navigation package with a much larger 12.3 inch front display, an upgraded 12 speaker audio system, a 15 speaker Mark Levinson audio system, blind spot monitoring with rear cross traffic alert and automatic emergency braking, a surround view backup camera, heated and ventilated front seats, power reclining and folding second row seats, a towing package with an upgraded cooling system, parking sensors, a hands-free tailgate, a head up display, the heated steering wheel and upgraded LED headlamps.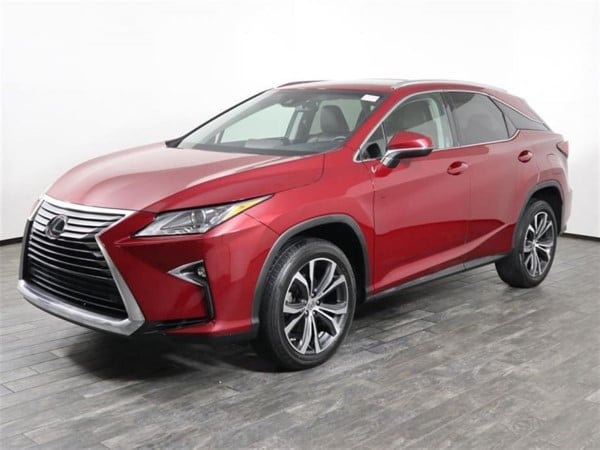 HOW MUCH IS A LEXUS RX 350?
If you want one of the best luxury SUV choices in the segment, then you're going to pay quite a premium at most dealers. But Off Lease Only has a large selection of used Lexus RX 350 for sale, and prices start at just $24,999. If you've been looking for a highly sought after Lexus RX 350L for sale, we have those too! These Lexus SUVs are all late model, low mileage examples, and they're all priced thousands below Kelly Blue Book! So quit dreaming about getting a Lexus RX, and click here to find yours right now, at OffLeaseOnly.com!